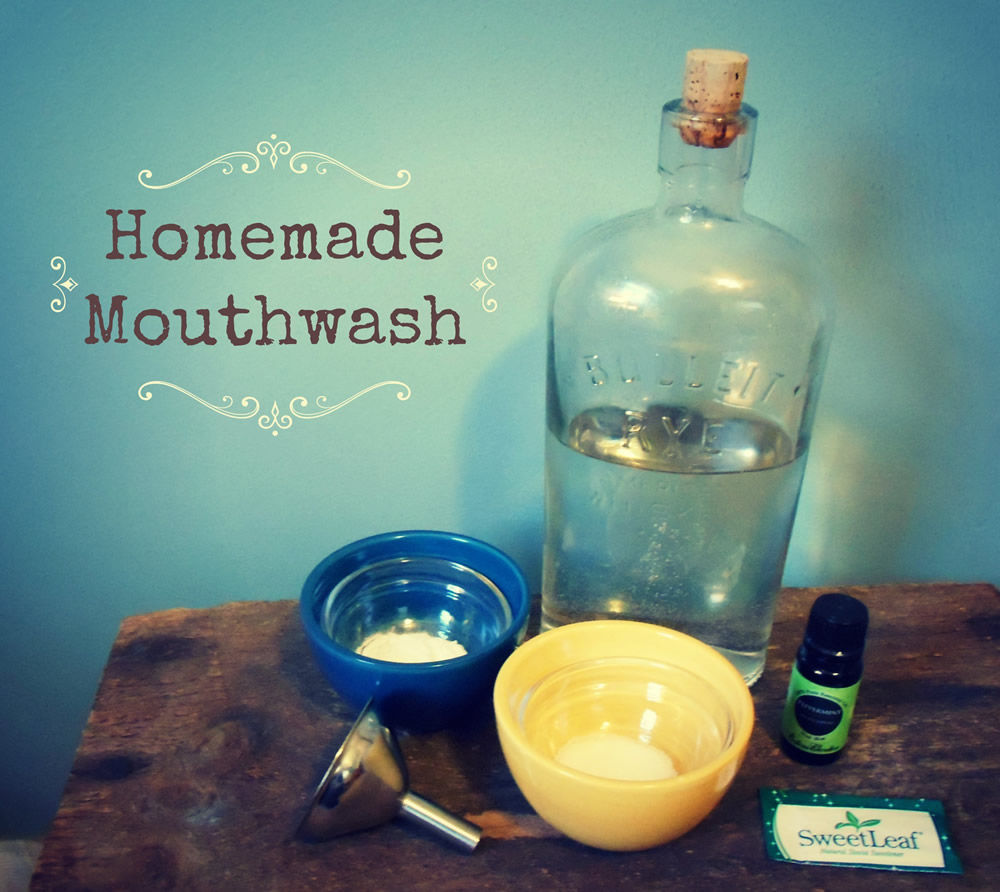 When I first started my quest to replace household personal care and cleaning products with natural, homemade ones, mouthwash was something I had to tackle!  I love the fresh, clean feeling it leaves in my mouth as a last step after brushing and flossing, and didn't want to have to give that up.  I always had a problem with regular mouthwash burning my mouth so bad that I would usually water down the bottle so it wasn't so strong (plus I'm kinda cheap frugal and mouthwash is expensive so this definitely made it last longer!).  This mouthwash costs pennies to make compared to the old mouthwash I used to buy!  Add this savings to the money I'm saving by making my own cleaning and beauty products (even after investing in some initial ingredients), and I'm way under my old budget!
Why Regular Mouthwash Is Bad For You
Although conventional mouthwash may leave your breath minty and mouth feeling super clean, that feeling comes at a cost (and one that I'm not interested in paying).  The cost is bathing your mouth in chemicals such as these ingredients commonly found in the most popular mouthwash brands:
THYMOL:   Organ system toxicity (non-reproductive).
ETHANOL:  Developmental/reproductive toxicity, Multiple, additive exposure sources, Organ system toxicity (non-reproductive)
POLOXAMER 407:  Organ system toxicity (non-reproductive), Persistence and bioaccumulation.
FD&C GREEN 3:  Seriously?!  Do we really need our mouthwash to be dyed green?  It needs to be pretty before we swish it around in our mouth and spit it out I guess!
BENZOIC ACID:  Organ system toxicity (non-reproductive), irritation to skin, eyes, or lungs.
METHYL SALICYLATE:  Developmental/reproductive toxicity.
Source:  www.ewg.org
How To Make Homemade Mouthwash
There are a ton of different homemade mouthwash recipes out there using a variety of different ingredients.  The recipe below I tested and altered dozens of times to get it just right for me.  Feel free to play around with the ingredient ratios to suit your particular tastes!
Homemade Mouthwash Ingredients
This makes 8 ounces but I usually double the recipe because I go through a lot.
1 cup of distilled water
1 packet of stevia (or liquid stevia would probably be better but it's really expensive)
1/4 teaspoon of baking soda (I omit this ingredient because I unfortunately have a sensitivity/allergy to baking soda)
1/4 teaspoon of sea salt
4 to 10 drops of peppermint oil (I use 10 because I like it psycho minty)
Directions
Find a container to store your mouthwash in.  Glass is preferred whenever using essential oils since the oils can cause the plastic to break down and leach into the bottle contents (and who wants that?!).  Any glass jar would work but I used an empty alcohol bottle I got from my sister and it's perfect!  You can get creative with it if that's your thing.  I personally prefer my bottle because I like to swig off it, bum-style!  Please note that this is my personal mouthwash bottle and you probably shouldn't go swigging off the family mouthwash bottle this way!
Please invest in a kitchen funnel if you don't have one, they are so cheap and make life a lot easier.  If you don't have one, pour carefully (please don't go into your garage and grab and wash out the one you use to put oil in your car!).
Combine all of the above ingredients into your chosen container using a kitchen funnel, put a lid/top/cork on it, and shake it up.
Take a swig and adjust ingredients to your taste (if needed).