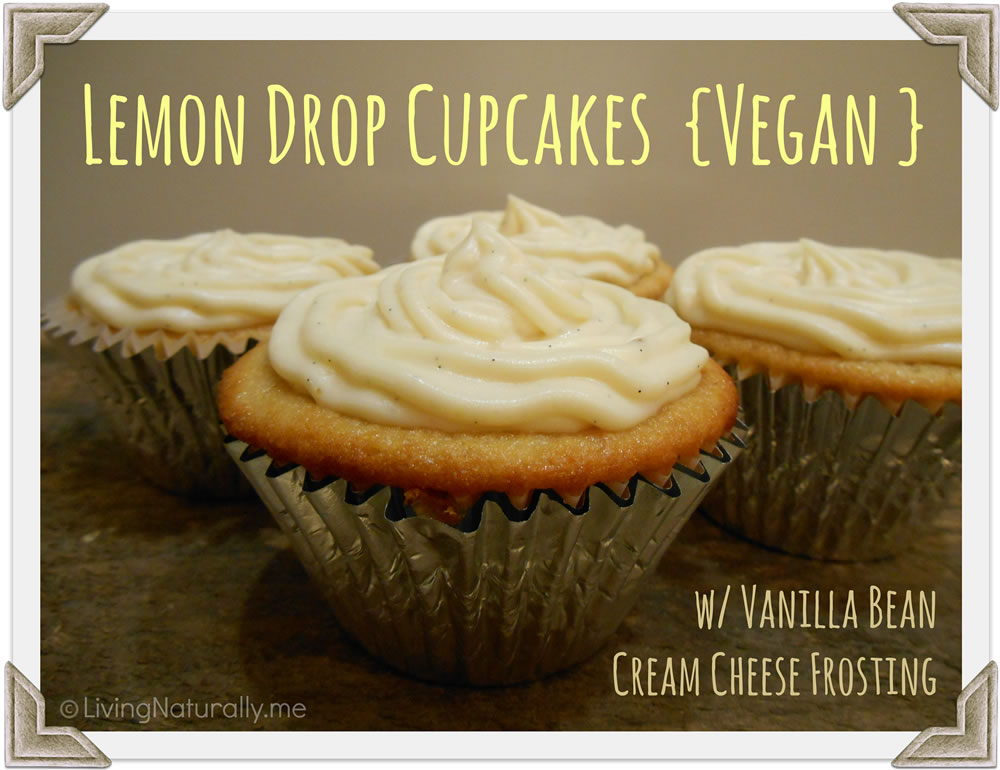 Ok so these cupcakes might not be the healthiest of plant-based recipes, but they are definitely healthier than non-vegan cupcakes and taste way better (in my opinion).  The combination of the lemony cupcake and the slight tang of the vanilla bean cream cheese frosting makes these cupcakes so addicting.  I should know, I actually ate three of these the night I made them.  I don't count one of them though since it wasn't frosted yet (so it definitely shouldn't count).  So I guess I really only ate two cupcakes that night.  Plus maybe one for breakfast the next morning.  Then I stopped counting.  It was my duty to thoroughly taste test them before posting them on this blog though (I love rationalizing my cupcake addiction!).  Feel free to play with different oils and non-dairy milks.  I've used hemp, soy, and hazelnut milk and they were all delicious!  If you want to get really adventurous, you could experiement with using one of the vegan egg replacer on the market.  I just wrote a Just Egg review on Vegan ShowOff if you want to check that out and consider that as an option!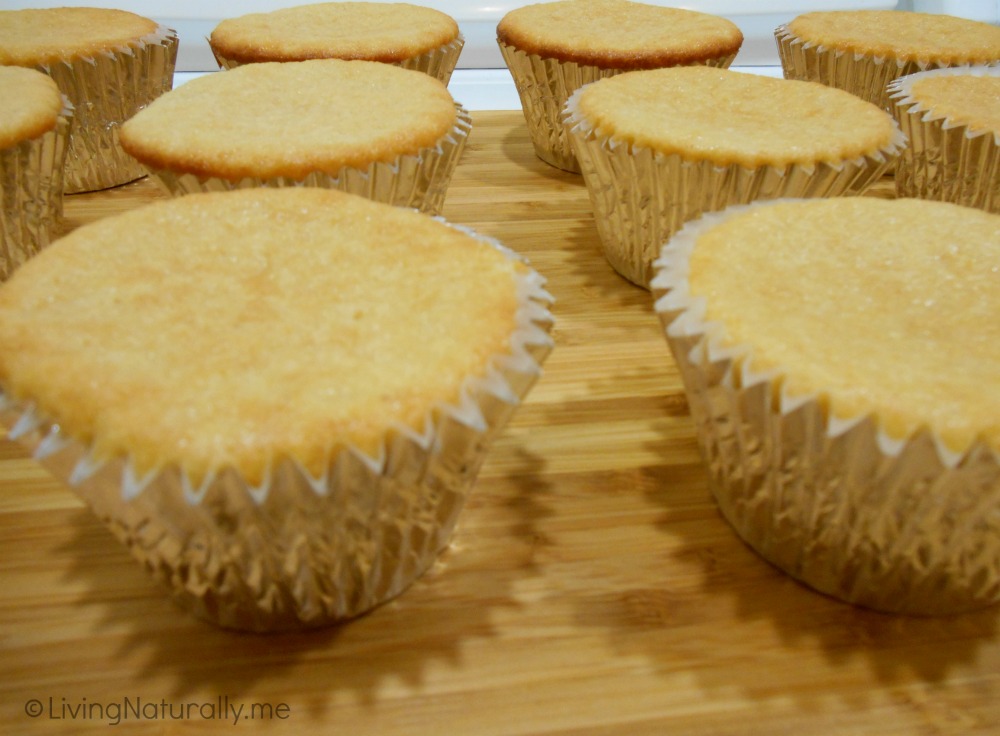 Creamy vanilla bean frosting…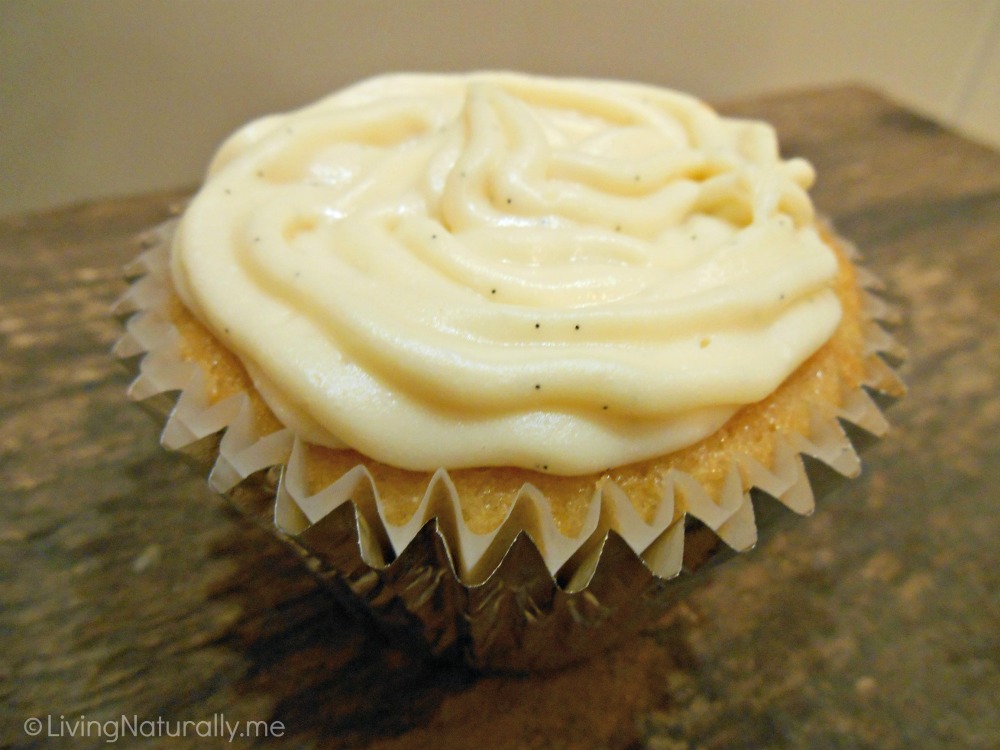 Moist, lemony, cupcakeyness, yummmmm…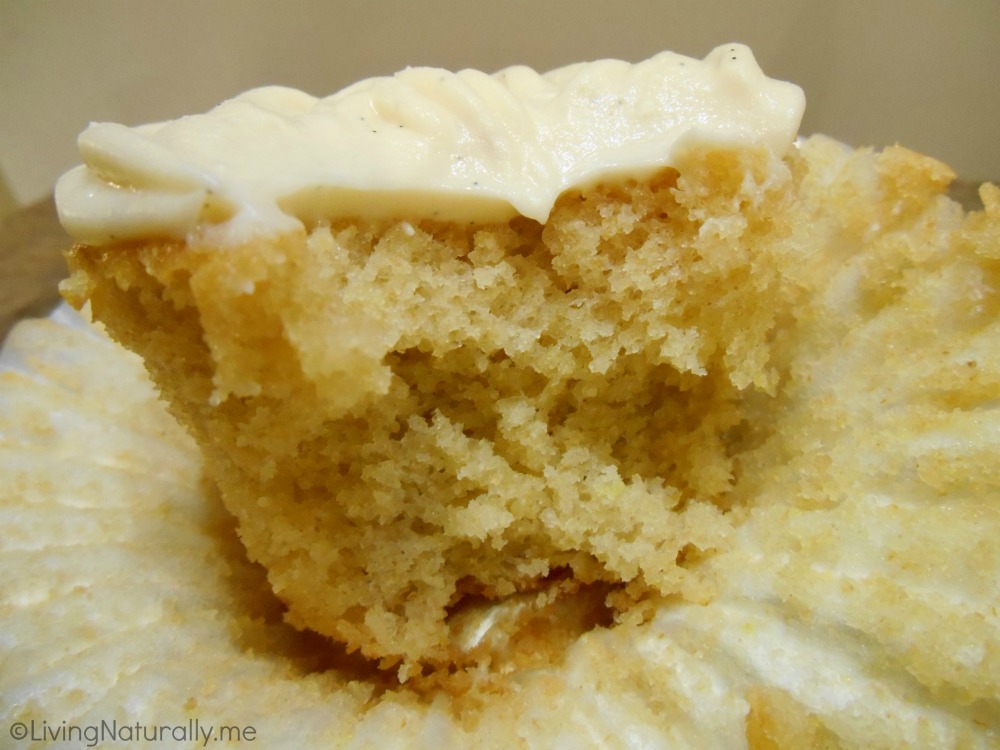 Vegan Lemon Drop Cupcakes
Makes 12 large, muffin-size cupcakes
Ingredients
1 Tablespoon of Apple Cider Vinegar
1 1/2 cups of non-dairy milk of choice (preferably not rice or coconut milk)
1/2 cup coconut oil (melted until liquid)
1 1/4 teaspoons of all-natural lemon extract
2 cups all-purpose flour (I use unbleached, organic)
1 cup of white sugar
2 teaspoons of baking powder
1/2 teaspoon baking soda
1/2 teaspoon of salt
Directions
Preheat oven 350 degrees F (175 degrees C).  Grease muffin tins with coconut oil or line with cupcake liners.
Measure the apple cider vinegar into a 2 cup measuring cup and add the non-dairy milk up to the 1 1/2 cup mark.  Let it sit a minimum of 5 minutes (this causes the acids in the vinegar to curdle the proteins in the non-dairy milk, contributing to the cupcake's complex flavor, leavening power, and a makes a nicer crumb).  Rice and coconut milk just don't curdle as well so they aren't suggested.
Place all of the dry ingredients (flour, sugar, baking soda, baking powder, salt) into a large mixing bowl and whisk together thoroughly.
Mix all of the wet ingredients (curdled vinegar/milk mixture, lemon extract, melted coconut oil) together into another mixing bowl.
Mix the wet and dry ingredients together until just combined (don't over-mix here!)
Pour or spoon the batter into the prepared cups, not filling more than 3/4 way.
Bake for about 15-20 minutes or until the tops start to lightly brown and spring back to the touch.
Cool on a wire rack and don't frost until they are completely cooled!
Vanilla Bean Cream Cheese Frosting
I piped this frosting onto the cupcakes because I obviously like to show off my amateur cupcake decorating skills to the world.   This frosting isn't quite stiff enough to hold up to proper piping, but I still think it looks prettier than spreading the frosting.  This frosting recipe makes enough to pipe frosting onto all 12 cupcakes.
Ingredients
1/4 cup Earth Balance (or other vegan butter)
8 ounces of non-dairy cream cheese (I've only used Tofutti brand)
2/3 cup of vegan powdered sugar
3/4 teaspoon vanilla extract
1 vanilla bean (insides scraped)
Directions
Put the vegan butter and the non-dairy cream cheese in a mixer and beat until thoroughly combined.
Add the powdered sugar, vanilla extract, and the insides of the scraped out vanilla bean to the mixture and mix until creamy (I switch to the whisk attachment for this part to get the creamiest results).
Give it a taste and add more sugar if you like a sweeter frosting (I prefer a less sweet frosting).