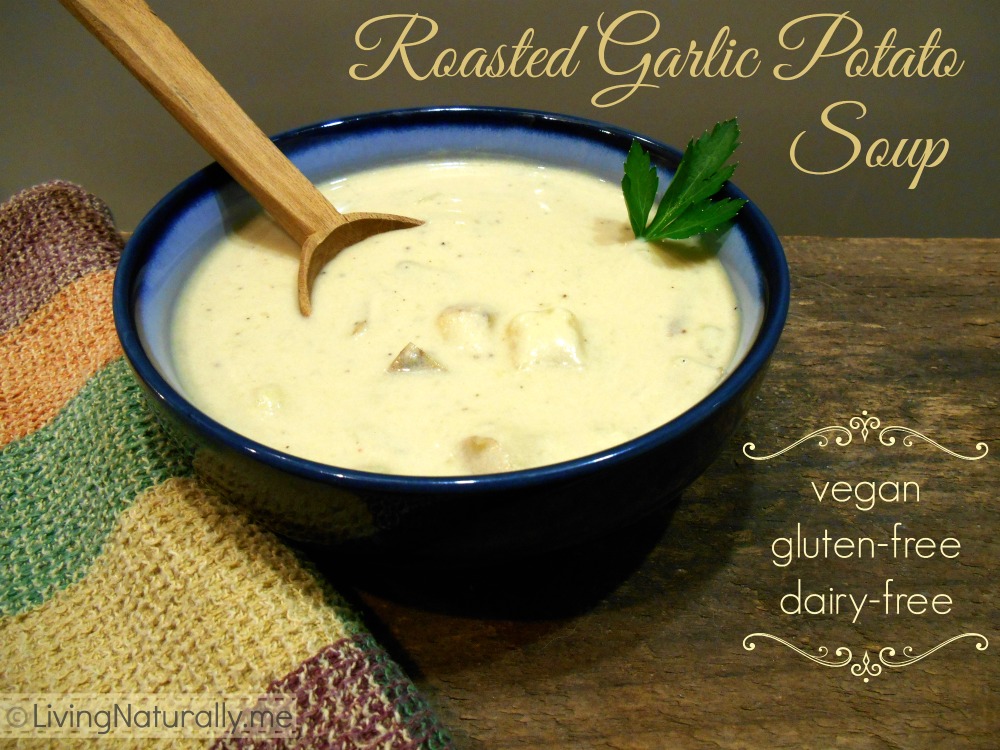 This recipe was inspired by my love of garlic.  Actually, Jake made the best potato soup last winter and it was so good I actually went back for seconds (which is rare since I get full so easily).  Then I proceeded to eat the entire vat of soup almost to myself (not that same night of course:). It was so yummy, but I was still eating dairy at the time so I knew if I wanted it again I was going to have to veganize it!  My friend Natasha also mentioned something about making roasted garlic potato soup a few weeks ago and my ears perked up (the garlic of course).  So I decided to combine the roasted garlic part of Natasha's soup with the potato soup Jake made last year.  This recipe is the result and I must say I was pleasantly surprised with how yummy it was.  This recipe makes a huge vat of soup that will keep all week in the fridge.   Trust me, you will not be missing the dairy in this creamy potato soup!
Mmmmmm… creamy, garlicky, and delicious!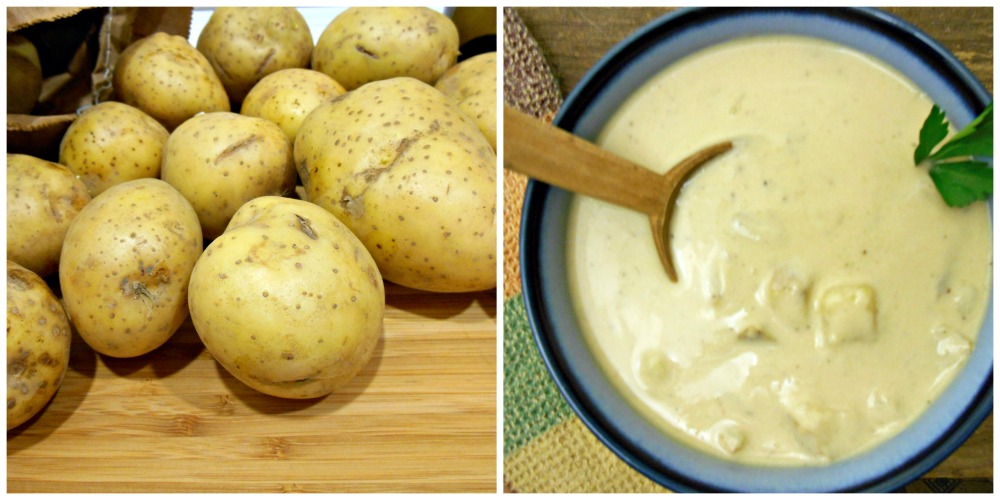 Vegan Creamy Roasted Garlic Potato Soup
Ingredients
This recipe makes a huge pot of soup.  You may want to cut it in half if you don't have a family to feed or aren't a soup fiend like me.
3 lbs of organic yellow potatoes (or red would be yummy too)
1 cup raw cashews (soaked)
1 medium yellow onion, diced
10 cups of veggie broth
1/4 cup nutritional yeast
2 heads of garlic
1/4 teaspoon celery salt
2 tablespoons olive oil (optional)
salt and pepper to taste
Directions
Fill a two cup measuring cup with 1 cup of cashews and fill the rest of the cup up to the 2 cup mark with vegetable broth.  Soak for at least an hour or if you don't have a high-powered blender, soak overnight for best results.
Roast the garlic:  Preheat the oven to 400 degrees F.  Cut the tops of the garlic heads off to reveal the "brains" and drizzle with olive oil.  Wrap in a piece of aluminum foil and roast in the oven for 35-40 minutes.
Take out a big stock pot and add the olive oil and diced onion.  Add salt, pepper, and the 1/4 teaspoon of celery salt and saute until the onion is translucent.  If you aren't using oil to saute, just add a little of the veggie broth to the pot and saute the onion in that instead!
Wash and then cut up the potatoes so they are in inch long pieces (or to whatever size you'd like them to be in your soup!).
Add 8 cups of veggie broth to the pot, along with the cut potatoes and 1 head of the roasted garlic (you can just squeeze it out into the pot) and bring to a boil.  Turn the heat down to medium and cook for approximately 20 minutes or until the potatoes are nice and tender.
Add the cashews soaking in the veggie broth to a blender (don't drain), along with the nutritional yeast and other head of roasted garlic.  Blend until smooth and creamy.
Add the cashew cream sauce to the pot with the potatoes and stir together.  Turn the heat down and simmer for about 30 minutes.
Taste the soup and add salt and pepper to your tastes.
Serve and enjoy!
Variations
As is, this recipe makes a chunky style potato soup.  If you'd prefer a smooth, creamy soup with no potato or onion chunks, feel free to put the soup back into the blender at the end.  You could also just put half of the soup back into the blender and then mix it with the remaining chunky soup for an extra hearty chunky soup variation!