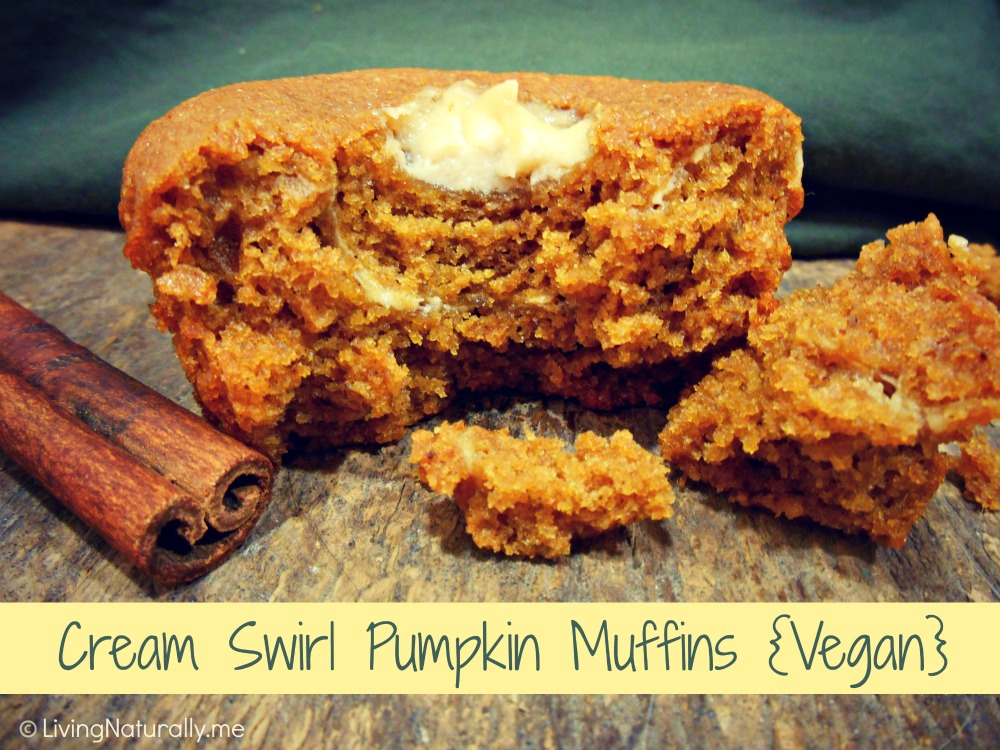 Ah, the muffin.  The cupcake's healthy cousin.  I'm really not sure of the concrete differences between a cupcake and a muffin.  Upon doing some googling, I discovered that this is actually a heated debate in the food realm and that there's no clear answer.  Hmph.  To me, muffins are a little more dense than cupcakes, supposedly healthier, and are sorely lacking in the frosting department.  I really wanted to frost these muffins so bad!  Vanilla bean cream cheese frosting would be perfect on these. Then I soon realized that I wanted to frost them so I could turn them into cupcakes!  In the end I decided to stay true to the muffin and compromise with a baked in yogurt-based cream swirl.
These cream swirl vegan pumpkin muffins came out moist, spicy, and delicious!  Plus they're good for you because they're filled with vitamin A loaded pumpkin and healthy organic molasses (high in iron, calcium, and magnesium).  Total guilt-free enjoyment.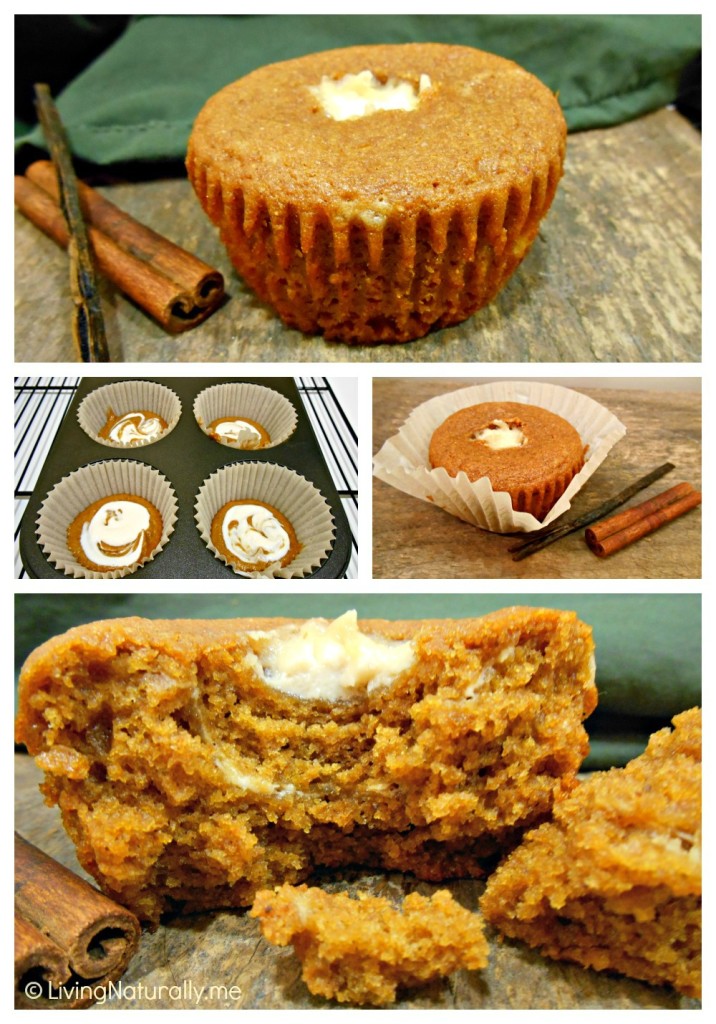 Ingredients
Makes 12 large muffins.
Muffins
1 3/4 cups all-purpose flour (I used organic, unbleached)
1 1/4 cups sugar
1 tablespoon baking powder
1/4 teaspoon salt
2 teaspoons ground cinnamon
1 teaspoon nutmeg
1/2 teaspoon ground ginger
1/4 teaspoon ground allspice
1/8 teaspoon ground cloves
1 cup pureed pumpkin (I used organic, canned)
1/2 cup non-dairy milk of choice
1/2 cup coconut oil (melted)
2 tablespoons of organic, unsulfured molasses
Cream Swirl (from LunchBoxBunch.com)
1/4 cup non-dairy vanilla yogurt
1/4 cup non-dairy cream cheese (I used Tofutti brand)
1 tablespoon of maple syrup
1/8 teaspoon of salt
Directions
Preheat oven to 400 degrees F.  Lightly grease the muffin pans with coconut oil or set up muffin liners.
Put together the cream swirl by combining the yogurt, cream cheese, maple syrup and salt in a mixer and whisk until smooth and creamy.
Combine all of the dry muffin ingredients (flour, sugar, baking powder, salt, and spices) into a large bowl and whisk together.
Put the remaining wet ingredients (pumpkin, non-dairy milk, melted coconut oil, and molasses) into a smaller bowl and mix until thoroughly combined.
Combine the dry ingredients with the wet ingredients and whisk together.
Fill the muffin pans about 1/4 way with the mix and then add a dollop of the "cream" onto the batter.  Take a knife or other tool and gently swirl it around.
Spoon the remaining mix into the muffin pans and top with a dollop of the "cream" (Note:  If  you "taste test" too much of the cream swirl you will be left with very tiny dollops like I was).  Just thought I'd warn you.
Bake for 18-20 minutes or until a toothpick inserted in the middle comes out clean.
Muffins adapted from the Post Punk Kitchen's Best Pumpkin Muffin recipe.