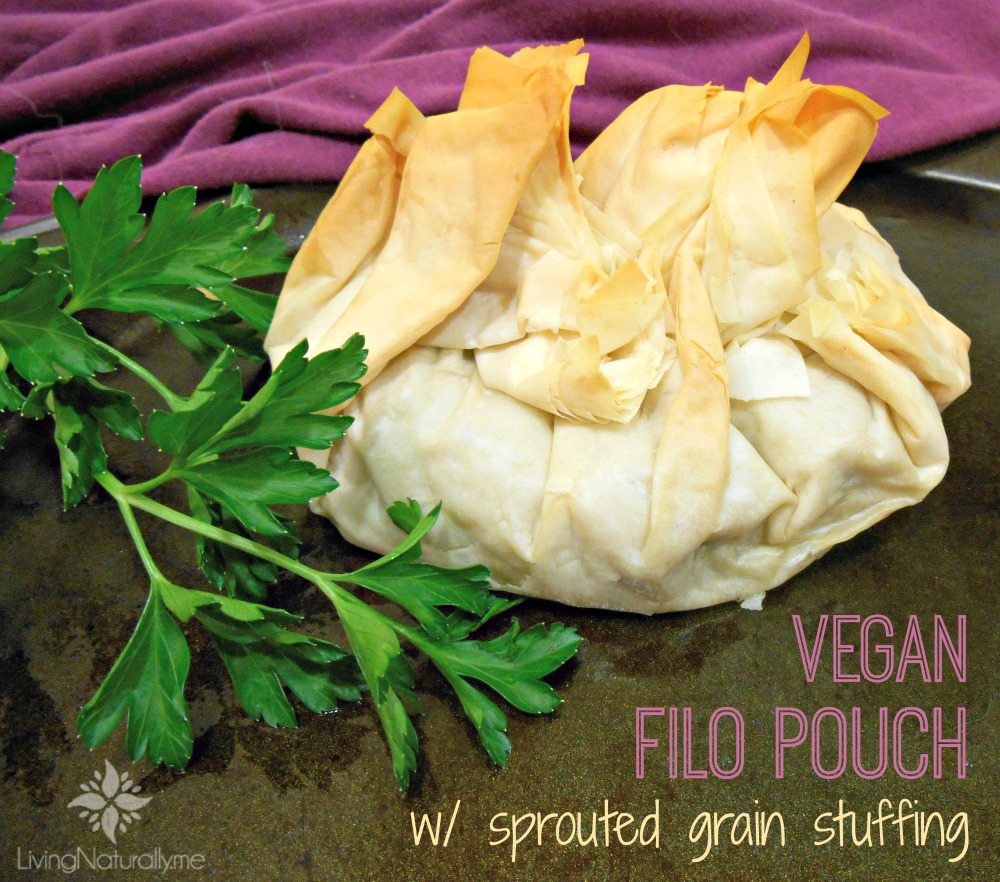 I really wanted to name these sprouted grain filo pouches "Toe-Filo", but I restrained myself because it didn't sound very appetizing!  I made them as my main entree for my Thanksgiving meal and ToFurkey kept running through my head (which I've never had).  This recipe does incorporate tofu, although it can easily be omitted if you don't eat soy.
The only bread I've really been eating lately is Ezekiel flourless, sprouted grain bread.  I love their english muffins and wraps too!  You can find them in the frozen section of your local health food store or even in the regular grocery store sometimes.  Sprouting the grains make them easier to digest, increases nutrient absorption, increases the antioxidants in the grains and seeds, and increases vitamins B2, B5, and B6.  Sprouting also produces vitamin C.  If you are going to eat grains, this is definitely the way to go!  It's yummy too.  If you don't have sprouted grain bread you can use whatever bread you have on hand though.
This first step in this recipe also makes some extra tasty homemade croutons if you wanted to stop there!  But if you were craving layers of buttery filo dough filled with a savory, flavorful homemade stuffing, you should really see this recipe through to the end…
Vegan Sprouted Grain Stuffing Filo Pouches
Ingredients
Makes 4 large filo pouches.
1 medium yellow onion, diced
2 stalks of celery, diced
8 cloves of garlic (put through a garlic press or finely chopped)
10 slices of sprouted grain bread (thawed)
1 cup of vegetable broth
1 box of firm, silken tofu (I used Mori-nu 12.3 ounce package)
1/2 package of vegan filo dough, thawed in fridge (I used Filo Factory Organic)
2 tablespoons of vegan butter
1/4 cup of chopped, fresh parsley
pinch of dried rosemary (preferably ground in a mortar and pestle)
1/2 teaspoon fresh ground pepper
1/2 teaspoon of mineral or sea salt
1/2 teaspoon of rubbed sage
1/2 teaspoon of dried oregano
1/2 teaspoon of dried basil
1 teaspoon of dried thyme
1 tablespoon garlic powder
1 tablespoon onion powder
extra virgin olive oil
1/2 cup water
Directions
Preheat oven to 350 degrees F.  Slice up the bread into crouton-sized pieces.
Prepare the spice mixture by combining the following into a small bowl or cup:  salt, pepper, rosemary, sage, oregano, basil, thyme, garlic powder, and onion powder.
In a large bowl, toss the bread pieces with extra virgin olive oil until lightly coated.  Add about half of the spice mixture and toss until thoroughly coated.
Spread the coated bread pieces out onto a cookie sheet and bake in the oven until toasted.  You may have to take it out and flip them a few times for even toasting.  Set croutons aside and try not to eat them all.
In a large pot, saute the yellow onion, celery, and garlic in the vegan butter until cooked.
Add the drained tofu and the remaining spice mixture to the pot and mix everything together.
Add 1 cup of vegetable broth to the pot and then add the croutons.
Remove the pot from the heat and mix everything thoroughly with a big spoon.  Cover and let sit about 8-10 minutes.
Try the stuffing and if it's too dry, add the 1/2 cup water and let sit a few minutes longer.  Depending on how moist you like your stuffing, you can add more water as needed.  I like my stuffing super moist!
Preheat oven to 350 degrees F to cook the filo pouches.
Spread out the package of filo dough on a cutting board and slice them down the middle so you have two stacks of paper-sized sheets.  Roll one of the stacks of sheets back up and place back in the freezer to use for another recipe!
Keep the filo dough covered with a towel so it doesn't dry out and rip.  Take one piece of the filo dough and lay it out onto a clean counter top.
Spread sheet lightly with olive oil (or melted vegan butter) and then place another sheet on top of it.  Repeat until you have four sheets stacked and coated lightly with oil.
Add about a heaping cup of stuffing to the center of the filo sheets and gather the filo dough up and around it, twisting at the top to form a pouch.
Repeat the procedure until all of the stuffing is used up (I made 4 large pouches).
Place filo pouches on a baking sheet and lightly brush more olive oil onto the outside of each pouch.
Bake in the oven for around 30 minutes
Enjoy.  These were also really great leftover after being in the fridge for a few days!